EVERYDAYRIDING DAG #245 - EDUARD BRENNINKMEIJER
"Today is day 245. That means there are still 120 days left to go" If your goal is to ride a bike every day for a year, you will soon know what day it is. At the end of last year, Eduard Brenninkmeijer, 44 years old, responsible for Marketing and E-Commerce at AGU, set himself the challenge to cycle at least 25 kilometers a day 365 days in a row. Naturally Eduard's story had to become part of our #everdayriding series.
As colleagues, we often asked him "Why"? And this is where our conversation starts. 'Why did I challenge myself to this? That's a very good question. For AGU, "#everydayriding" means that we actually make clothing for every cyclist to ride every day. You don't have to take everydayriding literally, of course, but I chose to do it.'
The catalyst to set the challenge was a phone call from Edwin Gulickx, the founder of the BEAT Cycling team of which AGU is clothing partner. "He told me he was going to cycle 365 days in a row. In other words, putting everyday riding into practice. When I heard that I thought, I have to join in. "Living the brand" as we would call it in marketing. And I wanted to experience what it's like to ride a bike every day.'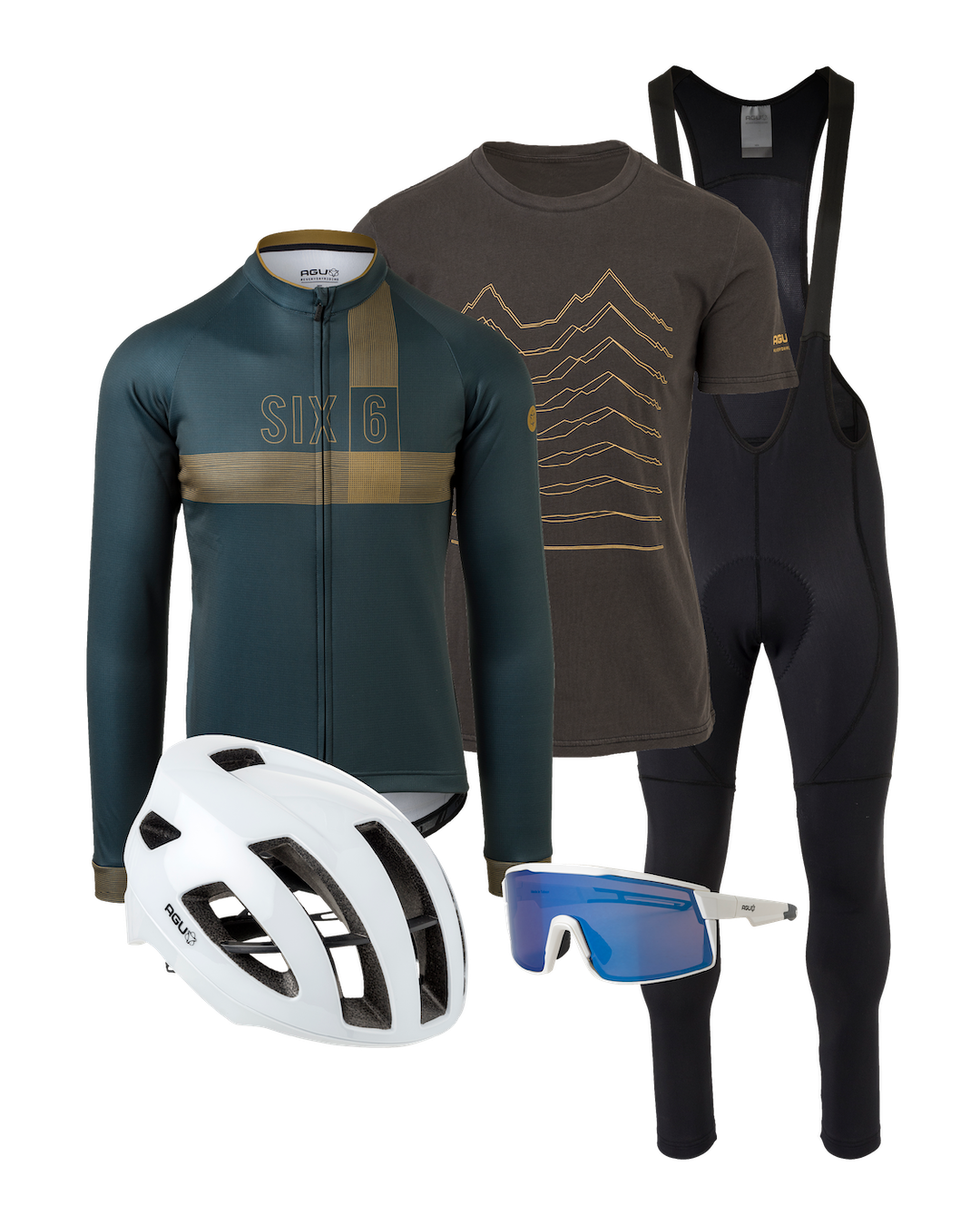 WIN the #EVERYDAYRIDING prize package



To celebrate this inspiring #everydayriding challenge, we're giving away a special prize package worth over €500!
Featuring the brand new SIX6 Classic Jersey, the SIX6 bibtight, Vigarous MIPS Helmet, Verve HD glasses and also a "Flat to Mountain" casual T-shirt.
---
Of course this had to be coordinated with the home front. With a wife and two young children, and also a busy job, it is not always easy fitting it into the working week. 'Cycling every day for 365 days has quite an impact. What I try to do is schedule my rides early in the morning as often as I can. Then I get on my bike, so that the impact of what I'm doing on family life is minimal.' Despite this, it is not always possible to plan around the family. 'Everyone is very cooperative and helps to ensure that it is possible for a while. Then it's like "John, go for a bike ride." I am very grateful to them for that.'

The morning took some getting used to for Eduard, but nowadays he really enjoys it. We regularly see the most beautiful photos of sunrises and blankets of fog above the meadows on Eduard's Instagram. 'Cycling in the morning is so calming You're on your bike, there's no one on the street, it's quiet, those are the moments when it's just really beautiful. You have time to look around you. I've thought about that before. I call it "cycling happiness." Sounds a bit strange, but it's just total relaxation.'
---
---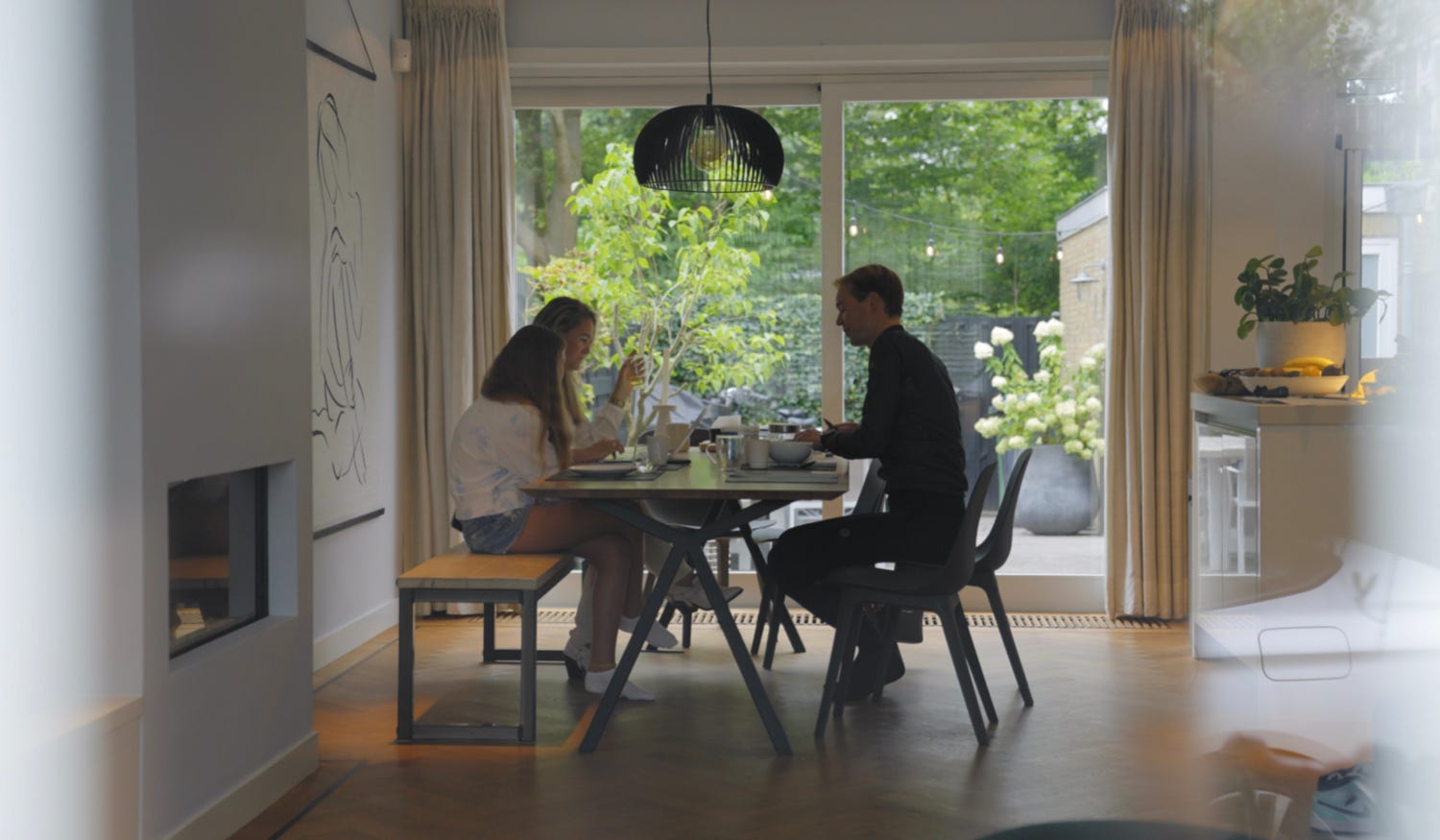 ---
---
AGU x EDUARD PRODUCTS: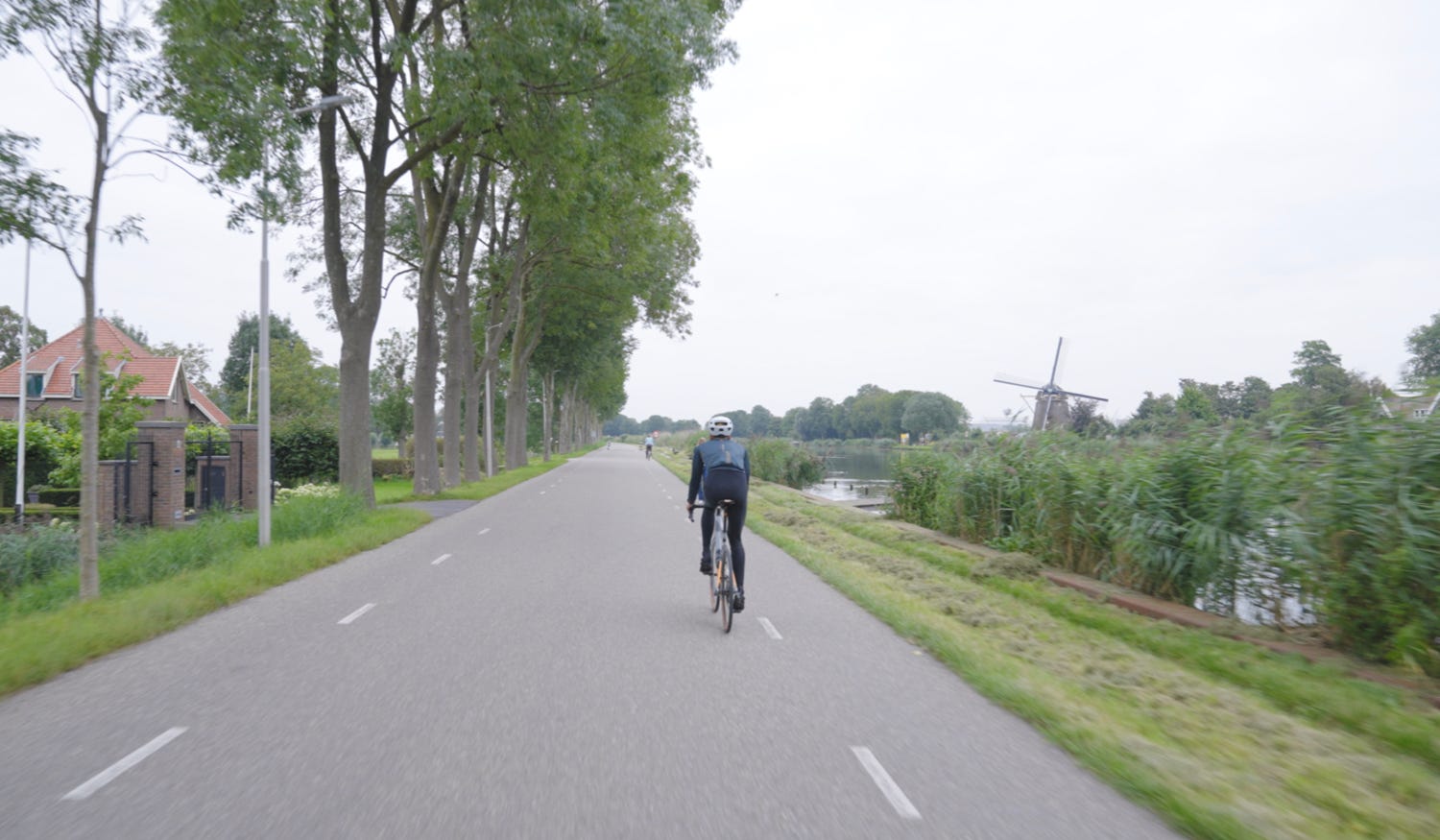 ---
If you cycle every day, it is of course impossible to cycle a different round every day. 'De "Ronde Hoep" is kind of my route. I often get the question: isn't that boring? Isn't that monotonous? My answer: No! Because otherwise I wouldn't do it! I notice that from the moment I get on the bike, I sign off. And then it's just all about relaxing. Where I ride doesn't matter to me anymore because I'm just resting for an hour. My head is empty, I have time and space to think about other things. I also really enjoy different circumstances, because every day is different."
'I often ride alone, but not always. I ride with friends, I have work meetings on the bike with people from my team. And at work we ride together every month. The social component is very important.'
---
It is a challenge, so there must of course also be a challenge or a difficulty. 'The distances you ride are not that great at all. It's not that you ride ridiculously fast. But you can't skip a single day. There's never a day that you can sit on the couch, so to speak, put your feet up and say, "Now that's enough for now." You always ride, and I think that's the challenge, also for your body. And that's noticeable, you have to eat better. Your body tells you to. I'm hungry all day these days. But once you're into it and it's in your system, the ease with which you do this, and what it actually brings you; I can only recommend that to everyone.'
Still 120 days to go, Eduard will ride the last round of his challenge on December 31. What comes after that? 'I think I'll do another round on January 1, 2022, and another round the day after. Because then I would have cycled more days in a row than Edwin. But the day after that I think I'll take time off and do nothing at all. 'Eduard thinks about this for a while, and then adds: "And then, I would be like: okay, now what? What am I going to do now? I'm definitely not going to ride for another 365 days. But cycling is here to stay. Everydayriding, I will definitely continue to do that.'