---
THE BEST KIT POSSIBLE
The importance of perfectly fitting kit in top level cycling is hard to overstate. "Aero" has been the magic word for years when it comes to minimizing drag and areas of turbulance around a cyclist's body. Even more so than in regular stages, this importance is greater in the time trial. The competition is fierce, differences small and grand tours are won and lost in a time trial. Everything has to fall into place, run smoothly, fit tightly, like a second skin. And that is why the riders of Team Jumbo-Visma wear the fastest suit.
---
Percentages en milliseconds
Since AGU and Team Jumbo-Visma shook hands, our R&D team has worked in close collaboration with the riders and performance staff to develop a better speed suit. Each of the team's time-trial specialists has been given a bespoke version that has been specially made to their measurements and tested in the wind tunnel. "A very intensive process has already allowed us to reduce air resistance by no less than 3.7% and generate time savings of up to 1.3% compared to when we started," says Professor Bert Blocken of TU Eindhoven. Richard Plugge, director of Team Jumbo-Visma stresses the significance of this. "For riders like Primoz Roglic, every millisecond counts. Crucial time savings can be found in the smallest details. AGU has gone to great lengths to bring us to the next level."
Primož Roglič can use every fraction of a second that might help in his attempt to fullfill his dream of winning the Tour de France.
---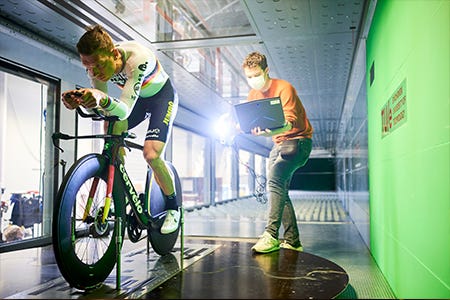 Björn Jeurissen, CEO AGU: "Since the start of our collaboration, product development has accelerated rapidly at AGU. The feedback that we receive from everyone involved at Team Jumbo-Visma, from the riders to the performance staff, is invaluable. Personal relationships make our partnership unique. As a Dutch company, we are very proud of our collaboration. That all of the innovative products that we develop together can then be made available in our regular collections for cyclists of all levels closes the circle.
All Team Jumbo-Visma clothing is tailor-made for each individual rider. The same goes for the time-trial suits. With these suits, AGU has taken another step when it comes to optimizing the clothing versus the rider's posture and position on the bike. AGU was recently present at a Team Jumbo-Visma training camp in Tignes to try on all clothing with the riders and to make last-minute changes where necessary.
AERO FROM HEAD TO TOE
Working with Team Jumbo-Visma's riders and performance staff is central to AGU's research and development strategy. Over the past year, we have refined and improved the riders' kit, so that they can perform at their best on every day. The riders continuously provide us with feedback. Our designers then turn to the latest fabrics and manufacturing processes to try to make their clothing even lighter, more comfortable, aerodynamic, and breathable. Once they have been thoroughly tested by the pros, the best solutions are brought into our collection.
Everything is perfected down to the last detail, every seam, every stitch down to every fibre we accept nothing less than the best cycling kit for the best riders. The time trial suit and the knowledge we gain in the wind tunnel form the basis on which the rest of the clothing is further developed. And those technologies are also reflected in clothing that is for sale to fans and enthusiasts. Our High Summer Jersey, High Summer Six6 Jersey and the Aero Premium bibshort use the exact same technology. Only the products have a slightly different design. These are available to everyone. Mit dem AGU-Kit könnt ihr Aero sein Kopf bis Fuß kleiden.
And for the real fans we have the Team Jumbo-Visma replicas.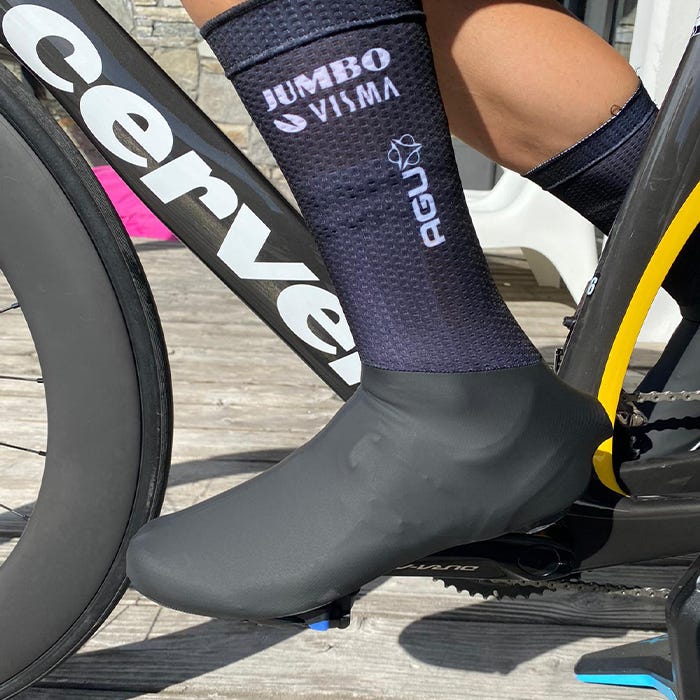 ---
TEAM JUMBO-VISMA SHOP