THE BEST KIT POSSIBLE
Everyone remembers the bloodcurdling sprint from the first day of the 2019 Tour de France—the day that Mike Teunissen earned the maillot jaune. In the team time trial, just a day later, Team Jumbo-Visma defended the jersey with verve, pulverising the times of their opponents. Two of AGU and Team Jumbo-Visma's ambitious projects bore fruit over the course of those two days: our mission to create the fastest kit for sprints and the fastest time-trial suit. The tone was set. Now, a year later, we are very proud to present our redesigned speed suit, which is even faster. It is the product of our continuous pursuit of innovation.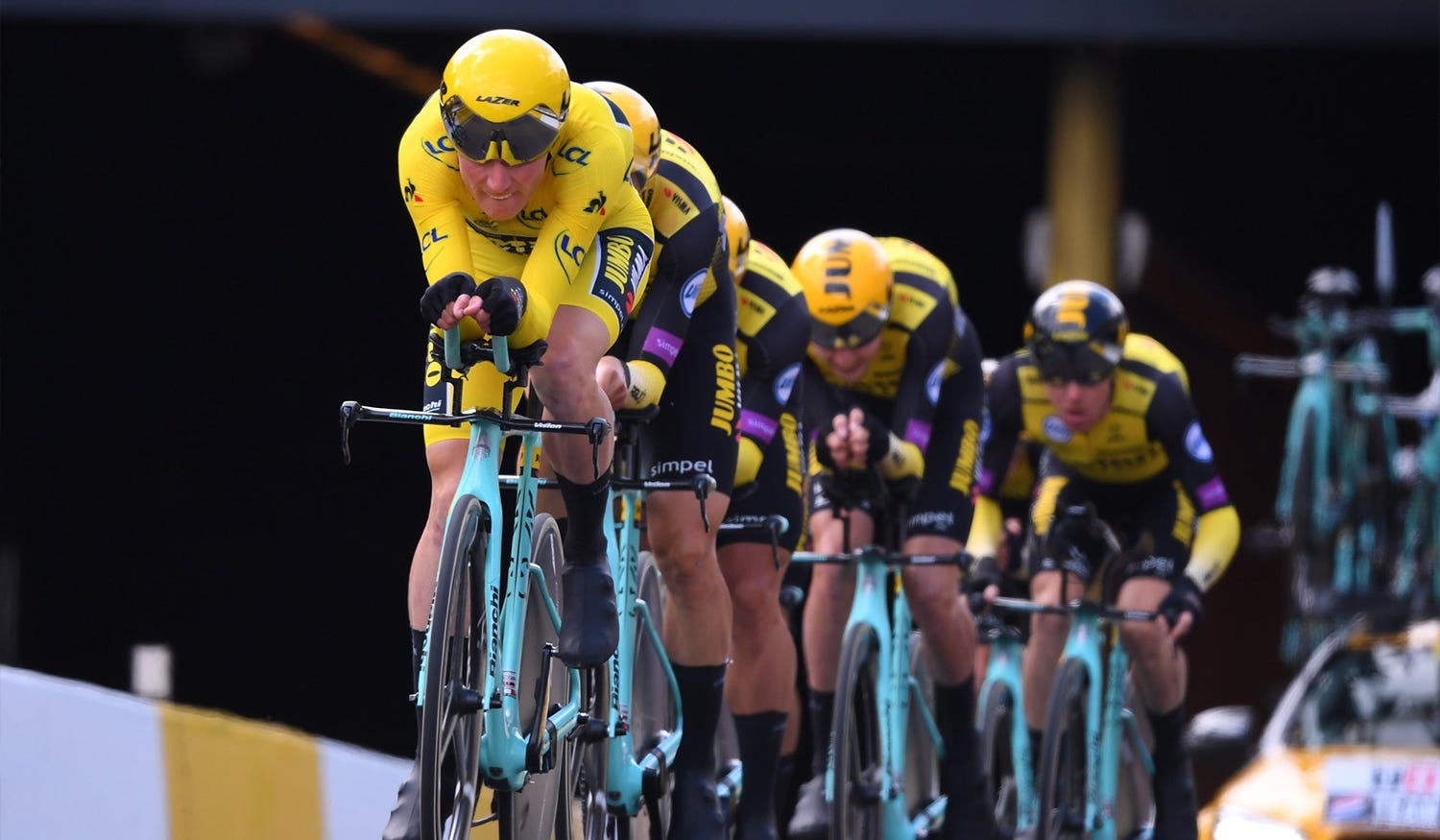 Since AGU and Team Jumbo-Visma shook hands, our R&D team has worked in close collaboration with the riders and performance staff to develop a better speed suit. Each of the team's time-trial specialists has been given a bespoke version that has been specially made to their measurements and tested in the wind tunnel. "A very intensive process has already allowed us to reduce air resistance by no less than 3.7% and generate time savings of up to 1.3% compared to when we started," says Professor Bert Blocken of TU Eindhoven. Richard Plugge, director of Team Jumbo-Visma stresses the significance of this. "For riders like Tom Dumoulin, every millisecond counts. Crucial time savings can be found in the smallest details. AGU has gone to great lengths to bring us to the next level."
Tom Dumoulin and Primož Roglič can use every fraction of a second they might save in their attempt to realise their dream of winning the Tour de France.
Björn Jeurissen, CEO AGU: "Since the start of our collaboration, product development has accelerated rapidly at AGU. The feedback that we receive from everyone involved at Team Jumbo-Visma, from the riders to the performance staff, is invaluable. Personal relationships make our partnership unique. As a Dutch company, we are very proud of our collaboration. That all of the innovative products that we develop together can then be made available in our regular collections for cyclists of all levels closes the circle.