THE CHALLENGE
Wind, rain, snow, frigid cold—if you're well prepared, you can ride through it all.
At times, you will have to be tough though. And you'd better be smart.
Riding well in the cold requires concentration. You need to keep a cool head, and to keep a cool head, you need to keep warm. Kilojoules shivered away are kilojoules wasted. If your core temperature has fallen or your fingers are too cold to work your shifters, you won't be focused on your ride and won't enjoy it.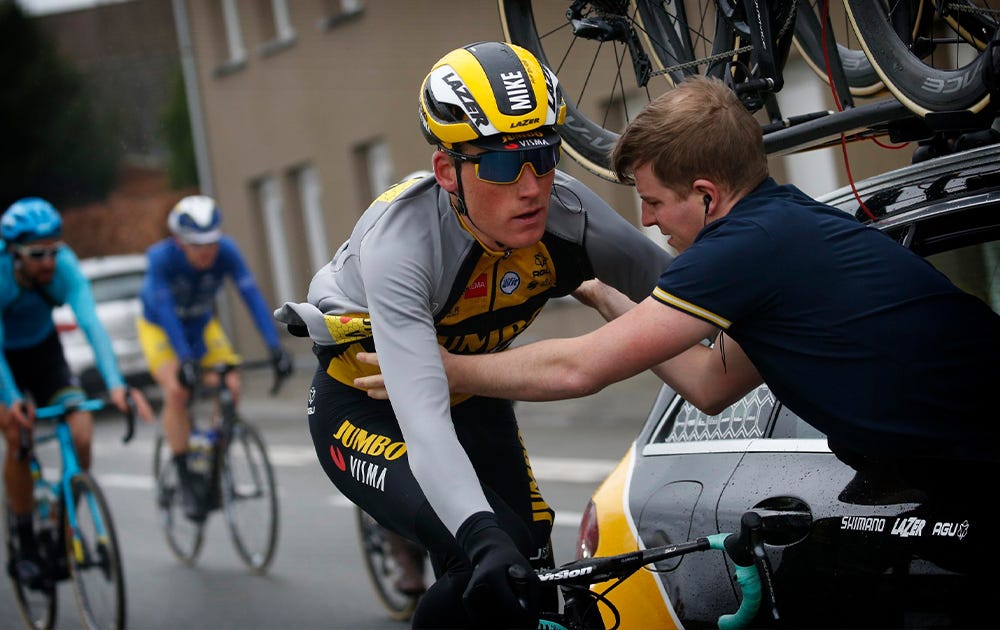 Still, even in sub-zero temperatures, you will often see the pros race the finale of a classic with bare legs and as little extra kit as possible. No one wants to take on their final climb in a heavy jacket, with thick mitts on their hands or a wet warmer around their neck. When you are riding hard, your body produces a tremendous amount of heat. Saving energy for those moments is important. When your pace drops, you can quickly get chilled and lose a lot of valuable energy. That is why layering is so vital.
SOLUTIONS
On your coldest days of riding, head out in long tights with a long-sleeved base layer and a long-sleeved, water-repellant thermal jersey, with an additional vest or winter jacket over top. Our Six6 bib tights are rainproof and cozy. Our super-soft Winter day base layers will keep you warm and dry. And our Six6 Event Thermojacket is water-resistant and windproof, though it still allows air to flow around your body.
The winter coat that we developed for Team Jumbo-Visma features a Polartec Alpha interior. You can get the same one. Polartec Alpha was first engineered for the U.S. military. Designed for start-stop combat, the soft, fleecy material retains just the right amount of body heat and is very breathable, so you can maintain a comfortable body temperature in drastically changing conditions. The fabric is extremely lightweight and compressible and does not retain moisture.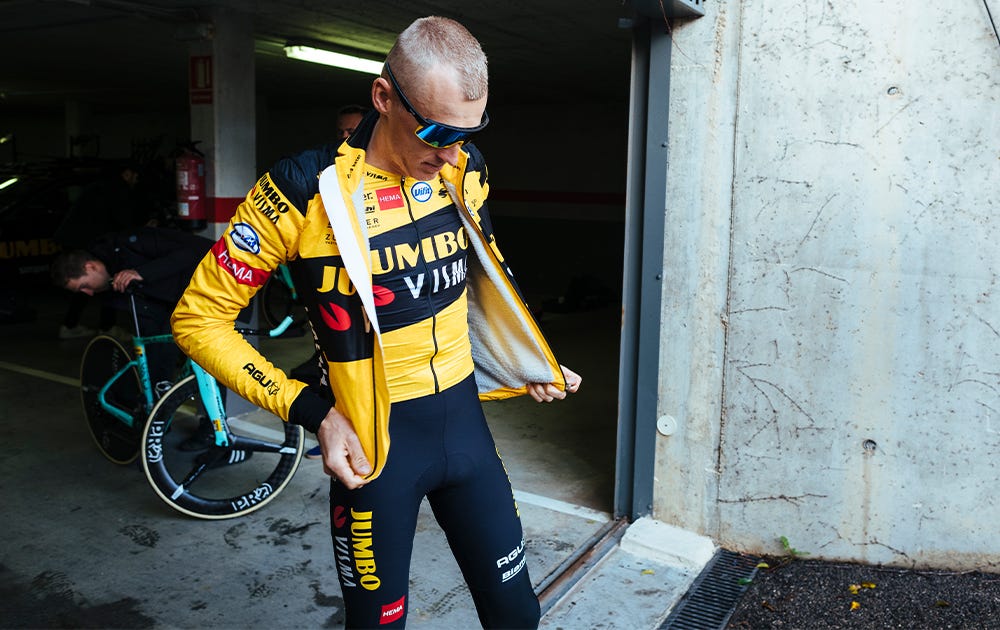 If the temperature is close to freezing, neoprene shoe covers are a must, especially if the road is wet, as is a thermal cap and a neck warmer. You need never have cold hands. AGU's Deep Winter lobster gloves could handle an arctic expedition.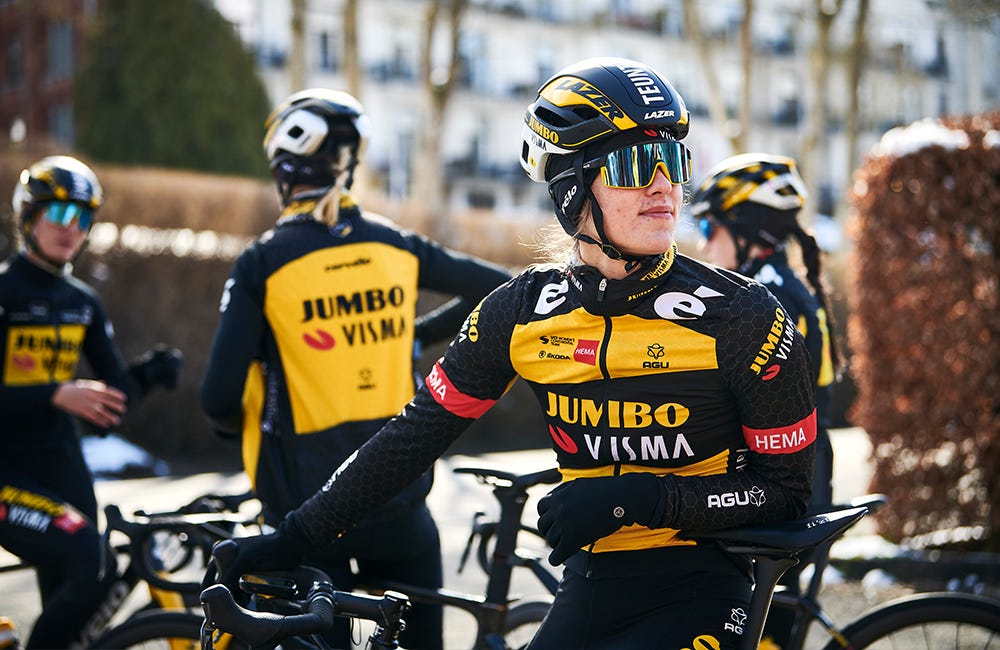 Fleece-lined thermal bibshorts are awesome. Hardly any thicker or heavier than regular bibs, they provide a welcome layer of insulation for cold-weather riding and feature a special Durable Water Repellent (DWR) coating. This hydrophobic treatment ensures that water beads on the material's surface and cannot be absorbed by its fibres.
On cool days, wear these shorts with a short-sleeved merino base layer and a thermal race jersey, along with arm and leg warmers and long-fingered gloves. Merino wool is a very fine, lightweight, and soft wool, which retains a great deal of warmth but will keep your body cool when you are working hard. Our arm and leg warmers feature a special DWR coating that sheds water.
Finally, remember you can always take the clothing you have on and off, but you can't put clothes you don't have on!
OTHER WAYS TO KEEP WARM
Eat more
In the cold, you have to eat more as well, as your body uses a lot of energy to maintain healthy temperatures.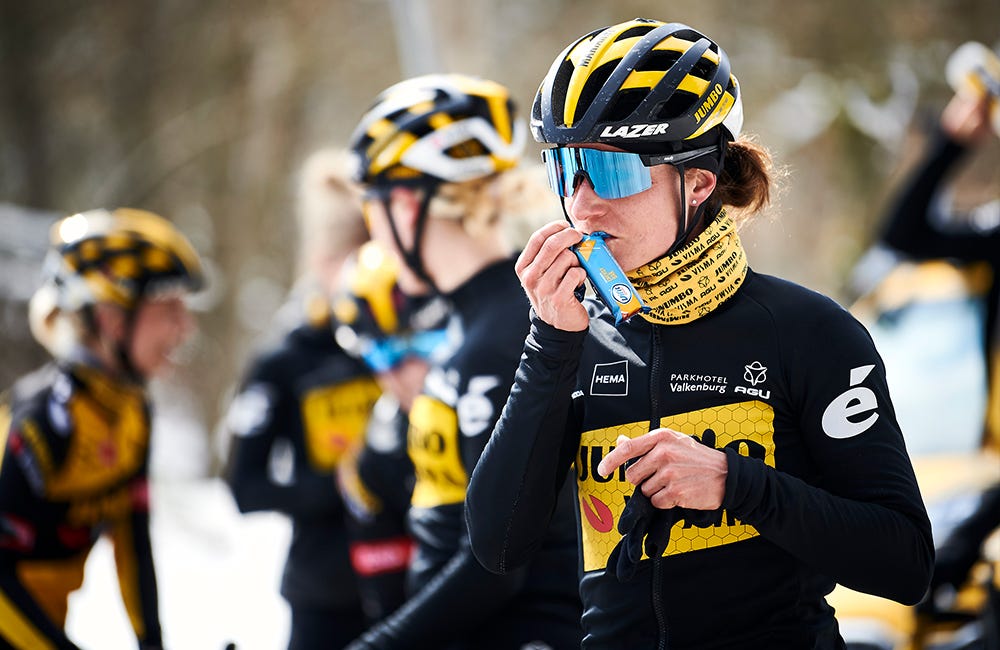 Ride harder
The best trick to stay warm is just to ride harder.
PROCESS
Working with Team Jumbo-Visma's riders and performance staff is central to AGU's research and development strategy. Over the past year, we have refined and improved the riders' winter kit, so that they can perform at their best on the coldest days. The riders continuously provide us with feedback. Our designers then turn to the latest fabrics and manufacturing processes to try to make their waterproof and windproof insulated clothing even lighter, more comfortable, and aerodynamic. Once they have been thoroughly tested by the pros, the best solutions are brought into our collection, so you too can ride well and have fun, no matter how far the mercury drops.