---
WE RIDE IN THE RAIN
Riding in rainy conditions is a challenge on a lot of different levels. First and foremost, wet roads are slippery. One false or unexpected move can send you or others skidding across the road. It's more difficult to see what's coming in the rain. Water falling out of the sky and splashing up from the road can make it difficult to see. And last, but by no means least, wet clothes can quickly get cold and make you feel really uncomfortable. If you are soaked to the bone, your body temperature will drop and it is more difficult to concentrate. That is why you want cycling clothes that will keep you warm and dry.
---
---
THE CHALLENGE
Weather can change very quickly, especially during the northern European spring and in the mountains in early summer or fall. You could be riding in the warm sun one minute; a moment later, you might be in the middle of a storm.
Being a Dutch brand, we at AGU know all about the rain. Since our very beginning in 1966 we have been known for our top-of-the-line and award-winning rainwear. Nowadays we produce a full range of versatile waterproof and water-resistant rainwear, so you can be prepared for all conditions, from light summer showers to winter storms. Keeping you dry and warm is the challenge we have met year after year. With the right kit, rainy weather will never stop you from enjoying your ride.
---
---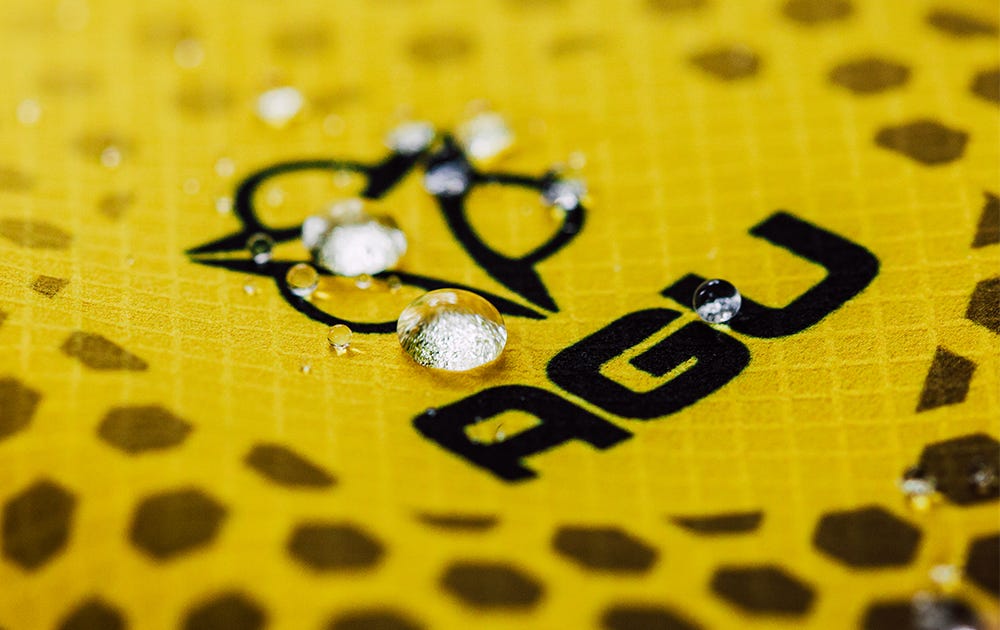 THE SOLUTIONS
For the wettest days, our Premium Event rain jacket is constructed from highly waterproof and breathable DVstorm fabric. When AGU's designers developed this jacket, they sought a material that was 100% waterproof and windproof and breathed well. DVstorm can handle a water column of 10,000 millimetres. That means that 10,000 millimetres of water can rest on one square centimetre of the fabric without it leaking through. All of the jacket's seams are sealed as well, so it could keep out a monsoon. Still, it doesn't trap perspiration inside, which means you can always stay dry and comfortable, even in heavy summer thunderstorms. This jacket is very lightweight and can be stuffed in a pocket easily.
---
---
WATERREPELLENT, WATERTIGHT AND BREATHABLE
Short-sleeved and long-sleeved jerseys with an eVent DVstretch membrane will also shield you from the rain. These provide an extra layer of insulation and protection against the wet while remaining very comfortable and streamlined. The stretchy material fits close to the skin for warmth and better aerodynamics. It is also extremely breathable. Unlike a regular membrane, which only begins to work when it gets wet, the millions of tiny pores in the DVstretch material work immediately and continuously to remove moisture from perspiration to keep you dry and comfortable. Shoe covers, such as our Race Day Essentials, provide similar benefits for your feet.
For drizzly days when you are working hard, our Stormbreaker jacket is the perfect solution. It features an active breathable membrane that enhances ventilation in strategic locations while retaining 100% waterproof protection in critical areas.
We also make bibshorts, arm warmers and leg warmers treated with a Durable Water Repellent (DWR) coating. This ensures that water beads off the fabric before it can be absorbed by its fibres. Classic cycling caps remain an effective way to shield your eyes from rain and road spray.
---
TEAM JUMBO-VISMA SHOP
---
---
---
TECHNOLOGY FROM THE PRO'S AVAILABLE FOR EVERYONE
Working with Team Jumbo-Visma's riders and performance staff is central to AGU's research and development strategy. Over the past year, we have refined and improved the riders' wet-weather kit, so that they can perform at their best in all of the conditions that they might face, from heavy storms to summery drizzle. The riders continuously provide us with feedback. Our designers then turn to the latest fabrics and manufacturing processes to try to make their waterproof and water-resistant clothing even lighter, more comfortable, and aerodynamic. Once they have been thoroughly tested by the pros, the best solutions are brought into our collection, so you too can ride well and have fun in the rain.
---
---
TIPS FOR RIDING IN THE RAIN
Tip 1: Extra kit
In addition to the clothes you are wearing, it can also be useful to take extra clothes with you, especially on the longer rides. A dry sweat shirt or jersey can make a big difference, especially if you start to get cold.
Tip 2: Wear glasses
Glasses protect your eyes from the rain, but also shield your eyes from water and dirt. The lenses of our Verve HD glasses, which were specially developed for Team Jumbo-Visma, feature a hydrophobic coating that sheds water and muck. They also employ next-generation anti-fog technology. Most riders will put bright lenses in their glasses, so they can see better in rainy conditions.
---
---
Tip 3: Use mudgaurds
Simple saddle-mounted mudguards protect shorts from road spray and help keep water out of your eyes and face. For winter training, most pros will ride with full fenders.
Tip 4: Warming-up
On cold, wet days, apply embrocation to your legs. This creates an oily barrier so water cannot penetrate to your skin.
Tip 5: Less tire pressure
In wet conditions, reduce your tire pressure. Softer tires have more contact surface with the road and therefore have more grip.
---