EVERYDAYRIDING DAY #271 - TONY MARTIN
Today in our newest #everydayriding portrait: The living cycling legend Tony Martin, better known as "der Panzerwagen". The four-time time trial world champion has spent more time on the bike and celebrated as many sensational successes as hardly anyone else. We at AGU are very proud to have developed an exclusive collection with this top athlete. In an interview, he reveals to us why the topic of safety is so important to him when it comes to cycling, how he has experienced his career as a professional cyclist, and what will come next as he draws the curtains on his impressive career.

---
Right at the beginning of the interview, the 36-year-old tells us about the impact of a bicycle accident during training…
"I was riding on a bike lane when a car suddenly crossed this bike lane. It was not more than three kilometers from home, so a moment that you would say, "Almost home, the day is over, all done, all good." I had the right of way, but the car cut me off. I was only wearing a black rain jacket becasue I wasn't that aware of visibility in traffic at the time. I think I must have been riding 35 or 45 kph when I crashed into the side of the car. I was unconscious and taken to hospital. That was actually also the starting point for me where I said, "OK, something has to change here."
---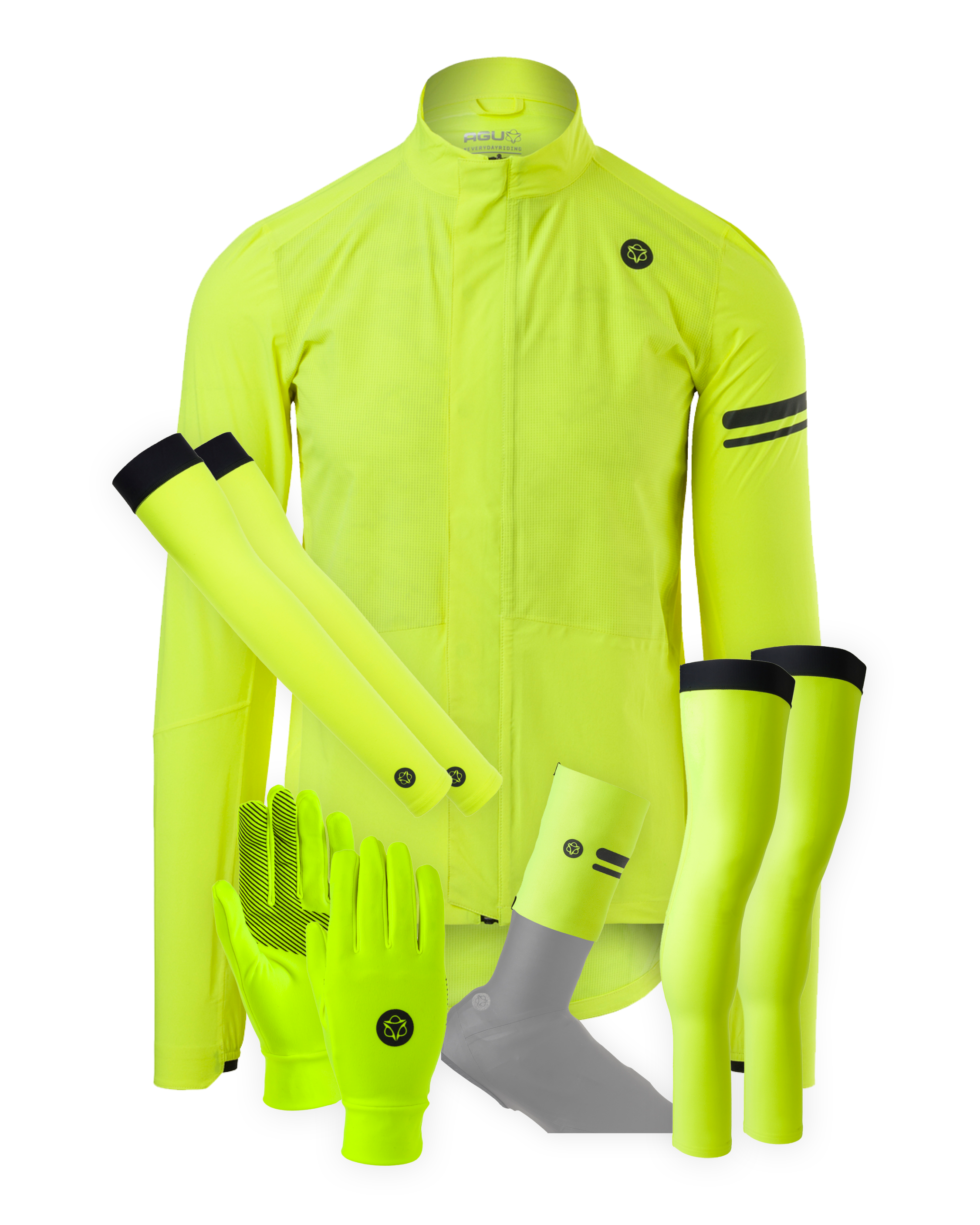 WIN "TONY MARTIN'S CHOICE" PRIZE PACKAGE
To celebrate the new collection we developed with Tony we are giving away a package with all the items from the collections for a total worth of over €300!
Featuring the brand new Prime Rain Jacket II Essential, the Light Arm and Leg warmers, the Stretch Glove Essential and Gaitor Essential. Be bright, be safe!
---
It was not only that moment that turned his attention to the aspect of safety in cycling. It has been a subject Tony feels strongly about for a long time.
"I've been fighting for safe cycling, especially in races, for years." Tony has been the victim of a number of heavy crashes during races, most notably and recently during the Tour de France in 2021 where he crashed into a spectator that stood with het back to the peloton as it approached. "Unfortunately nothing has been done the past years to improve safetly for the riders. I can only hope that after my career somethung will change, that cycling will be safer for the next generation."
"Racing is one thing, training is another. We move in traffic every day. There are also a lot of accidents involved with cyclists everyday, unfortunately. And what I reaslied is that you can actually minimize the dangers yourself, at least to some extent. Especially through good visibility in road traffic. Preferably by wearing bright colour intensive kit."
---
---
We couldn't have said it any better! Because safety on the bike is as important to us as it is to Tony, we combined our expertise with his experience as a professional rider - and the result is an exclusive Hi-vis neon collection, which will be launched this winter.
"I actually wanted to create a cool collection where I could say: OK, it has a cool function on the one hand, meaning safety, visibility in traffic, but of course it should also look cool and stylish. But in the end the most important thing is that we get home safely. I think that AGU has been able to connect these elements quite well and I'm very, very grateful there too."
---
NEON VISIBILITY PRODUCTS

"In the end the most important thing is that we get home safely."
---
Tony tells us how meaningful he thinks it is for everyone to ride bikes more and leave the car behind more often. He lives in a small village but sees what an impact it can have on a busy city when more people take the bike. And it's such a productive and positive part of daily life. Less stress, more fresh air, more freedom.
The day we meet with Tony is two days before the last race of his career during the UCI World Championships 2021 in Belgium. With Germany, he would win the team time trial mixed relay title. A fabulous ending to a career with all its ups and downs. "What remains are really the good times, the beautiful victories, the precious moments with my teammates, with all the great people who also accompanied me. That's what I'll always remember. In that respect, I'm very, very grateful that I was able to live this career like this."
It's been everydayriding for the past years for Tony, so the question begs: what's next, will cycling remain such a big part of his life in the future?

"I think in the next few weeks I will definitely leave the bike in the corner for a while. Just like I do in regular season breaks. Maybe I'll try running, or another sport... I can now do what I want and this is a complete new situation for me and I'm very, very curious to see how it will be for me."