---
OUR AGU HISTORY
In the Netherlands, you can find a bike on every street corner, parked near railway stations, on canal bridges, and in front of cafes. In every home, in hallways or garden sheds the bike waits patiently until it is called upon again. The bike is central to Dutch culture and everyday life in our country. In fact, there are more bikes in the Netherlands than people. But it is not just the Netherlands anymore, where the bike is popular, in many major cities around Europe, the bike is being embraced more and more. But 55 years ago, things were quite different.
---
---
The "Alkmaarse Groothandels Unie"
Just after the Second World War, during the reconstruction of the Netherlands, bicycles were a scarce commodity but in high demand. There weren't many other means of transportation and the car was unaffordable for most people. Bicycle wholesalers were busier than ever. They did what they could so that everyone could finally move around and travel again in freedom. Instead of competing and getting in each other's way, three bicycle companies in Alkmaar decided to join forces. And so, in 1966, the Alkmaarse Groothandels Unie, or AGU, was born. AGU grew quickly in the following years and became one of the largest suppliers of bicycle parts in the Netherlands. From saddles and bells to strong chains and a well-functioning front and rear light.
Over time, the bicycle proved not only to be functional but also something you could have fun with. Slowly but surely, the focus shifted from bike parts to bike clothing and accessories.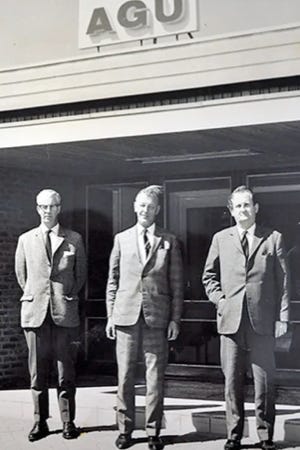 ---
---
AGU ADDS FUN TO CYCLING
Cycling had always been a sensible choice. We developed products that make cycling more fun. We were the first to introduce lightweight bike bags made from robust nylon, a new material at the time. We designed the "Original" rain suit, which proved to be a great success and won several awards. In the 1970s and 1980s, this iconic suit became the benchmark for rain wear in the Netherlands and was worn by cyclist of all ages to ride their bicycles all year long, in any weather. The same suit, although modernized and much improved, is still a bestseller in our rain wear collection. The company flourished, the public loved our products and we kept innovating, looking for the latest techniques, materials and cooperating with the best manufacturers worldwide.
---
1974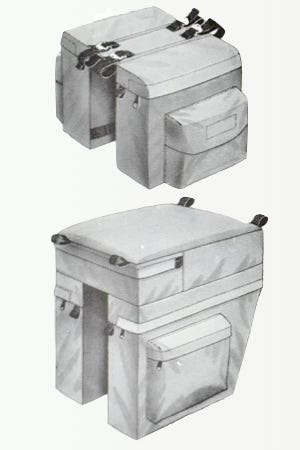 In 1974 AGU is the first company to launch lightweight bike bags, made from robust nylon by Yashuo Kurata, from his workshop in the heart of Tokyo.
1976
With the iconic "Original" rainsuit AGU wins the competition held by the Ministry of Transport to design the best rainsuit in the Netherlands.
1980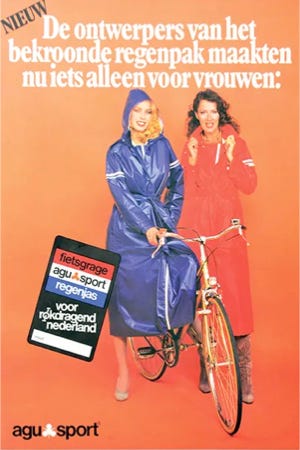 In 1980, at the special request of a group of nurses, AGU developed the bicycle-ready mackintosh. The jacket for skirt-wearing Dutch women was a resounding success.
---
AGU and PROFESSIONAL CYCLING
In the late 1970s we set our sights on professional cycling. At the time, there was little on offer as far as cylcing kit for the performance cyclist. And the kit that was available could only be had in black or made from stiff fabrics and materials that were anything but comfortable or convenient on the bike. Let alone conducive to performing well and setting a fast time. We believed this could and should be done differently and especially, it had to be done better. Three-time world champion Cees Stam shared our opinion and together we developed our first performance specific cycling clothing. And with success: Stam, dressed in AGU kit, managed to win his fourth world title.
1977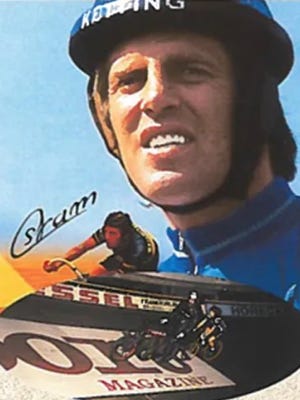 ---
That type of collaboration with top sportsmen and women made us want to do more. In the years that followed, we joined forces with individual athletes such as Steven Rooks and Leontien van Moorsel. But also with the illustrious Panasonic Team of Peter Post, and later with the successful Rabobank team, a team we were partnered with for 16 years! And in all these years we have consistently used the knowledge and experience gained in these collaborations to design and develop cycling kit and rainwear for everyone.
---
1983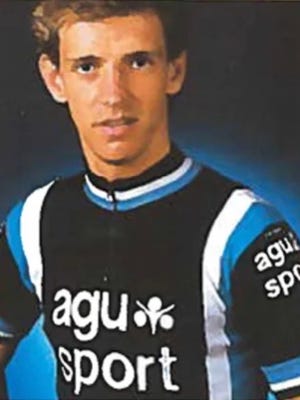 Steven Rooks wins Liège-Bastogne-Liège. As the cameras roll, Rooks puts on his AGU sweatband. That year, the sweatband was in high demand.
1990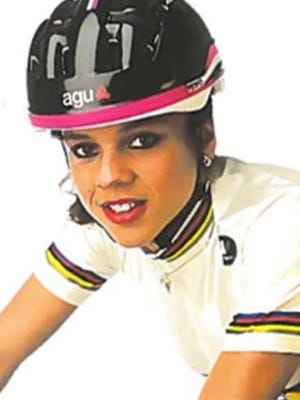 In 1990, Leontien van Moorsel, supported by AGU, won two gold medals at the World Championships in Tokyo and went on to become an icon in women's cycling.
1984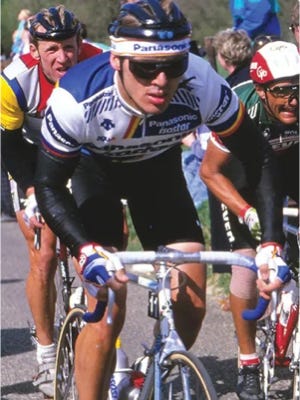 Due to the cooperation with the Panasonic Team, the name AGU and the clover logo became a household brand for cycling fans all over the world.
1996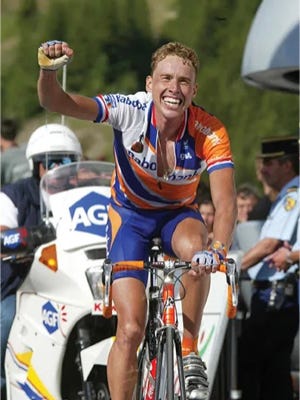 the partnership with Rabobank brings many years of enjoying successes of the Rabobank team, with riders such as Michael Boogard, Erik Breukenk, Oscar Freire and Erik Dekker.
---
---
THE SAME BUT VERY DIFFERENT
Now, more than 55 years later, a lot has stayed the same. We are still located in Alkmaar, we still make cycling clothes, rainwear and panniers with the same goal: to offer you as a cyclist the right tools, so you can enjoy being on the road every day. In all conditions, over any distance and on any bicycle. And with style!
---

---
But some things have changed. AGU has grown beyond the borders of our home country, and our products are finding their way to countries all over the world. Products that have been improved in every way imaginable, adopting the latest insights in body dynamics and material technology, but alo designing ever more beautiful and above all more durable products.
And last but not least: our partnerships, which are a perfect match for AGU and what we stand for: the cycling pleasure of Tour de Tietema, innovation and expertise of the best cycling team at the moment, Team Jumbo-Visma.
---
---
Our experience with cycling in every kind of weather, with every kind of bike and cyclist, 55 years of product development and strong focus on innovation come into their own in all our collections.
We are AGU, and we are there for every cyclist, every day.
---