2021 IN TEN AGU HIGHLIGHTS
2021 has been a special year for AGU. A year in which the popularity of cycling continued to grow, and we had the opportunitu to help even more people to get on their bikes more often and with more pleasure. A year with remarkable achievements in the highest level of cycling, and also of perhaps less broadly broadcasted but equally amazing successes that we would like to share with you in this blog.
With a bit of a preview of what you can expect from AGU in 2022.
---
---
#1 - TEAM JUMBO-VISMA excells once more in challenging year
---
The first images from the Tour were all but disatrous; heavy falls, partly caused by spectators, threatened to make a successful Tour de France impossible for Team Jumbo-Visma. But the team stepped up once again, showed the resilience and perseverance the team is so well known for. With stage wins by Wout van Aert, who once again confirmed his reputation as an all-rounder. But also by men like Sepp Kuss and Jonas Vingegaard, who took great stage victories and even a second place in the general classification. Primoz Roglic, who left the Tour, recovered in an incredible way by winning the Vuelta a España.
With the establishment of the new Team Jumbo-Visma women's team, we are now even more widely represented in the peloton. Together, the riders achieved no fewer than twelve victories in the road season. Marianne Vos won the Amstel Gold Race, Anna Henderson took no fewer than four victories and Riejanne Markus won her first World Tour stage in Norway.
More than enough for us as a clothing partner to be incredibly proud of the entire team.
---
---
---
---
# 2 - The most stylish rain jackets ever
---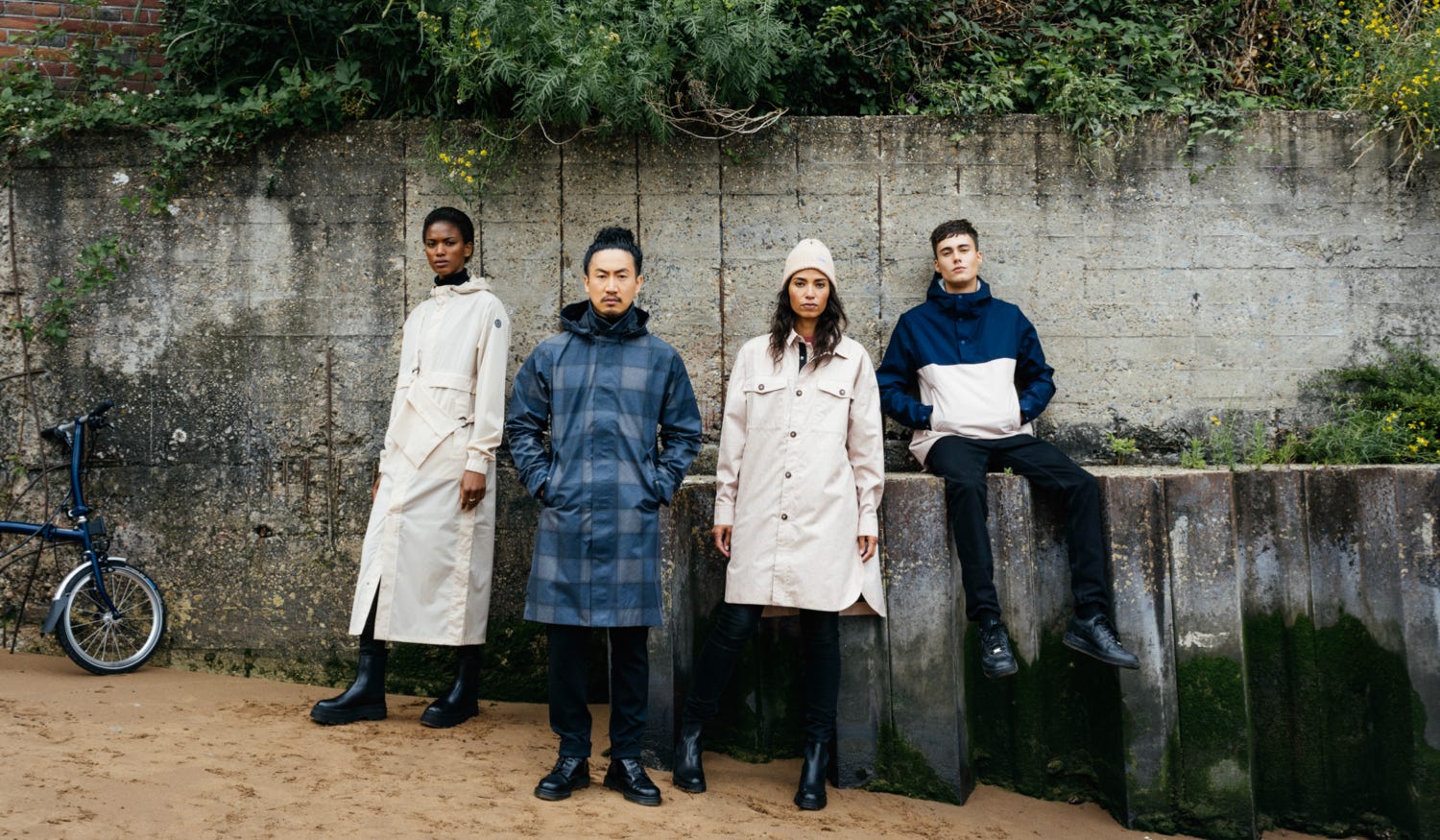 AGU has always been known for making the best functional raincoats years if we do say so ourselves. But this year we wanted to do more. Coming from a country with a strong cycling culture, we knew choosing the bike instead of the car has to become a lifestyle choice. And for that, we needed to make raincoats that not only keep you dry but also make you look good in daily life. To achieve that we launched our completely renewed Urban Outdoor collection. It has become a collection with jackets that not only protect very well against the rain but also look very good and stylish.
After our launch event in Hamburg, the collection turned out to be a bull's eye. With a lot of positive coverage in the press and on social media, this collection has become an instant bestseller. And that's not just why we're proud of this collection; we are also proud because all jackets are made entirely from recycled or environmentally friendly material and therefore fall under our Greensphere label. So good for yourself, and better for the world.
---
---
---
#3 - Onze ode to all cyclists
---
AGU is there for every cyclist, every day. That's what we mean by #everydayriding. Because we wanted to get to know cyclists even better and celebrate what they do every day we made a series of video portraits in 2021. Not only the famous and influential, but also the unknown, unsung, everyday rider. Be it commuter or courier road, mountain or cargo bike, grocery shopping or bikepacking, to school or the office
through wind and rain. This was our ode to all those cyclists.
It resulted in a very special series; we saw a completely different side of Wout van Aert and Primoz Roglic, a side that you don't often see in the press. We enjoyed bike messenger Eva Spijkerboer, who told us how the bike makes the city more beautiful, and our own Eduard Brenninkmeijer, who took #everydayriding very literally this year.
---
---
---
---
# 4 - Big succes in a small package
---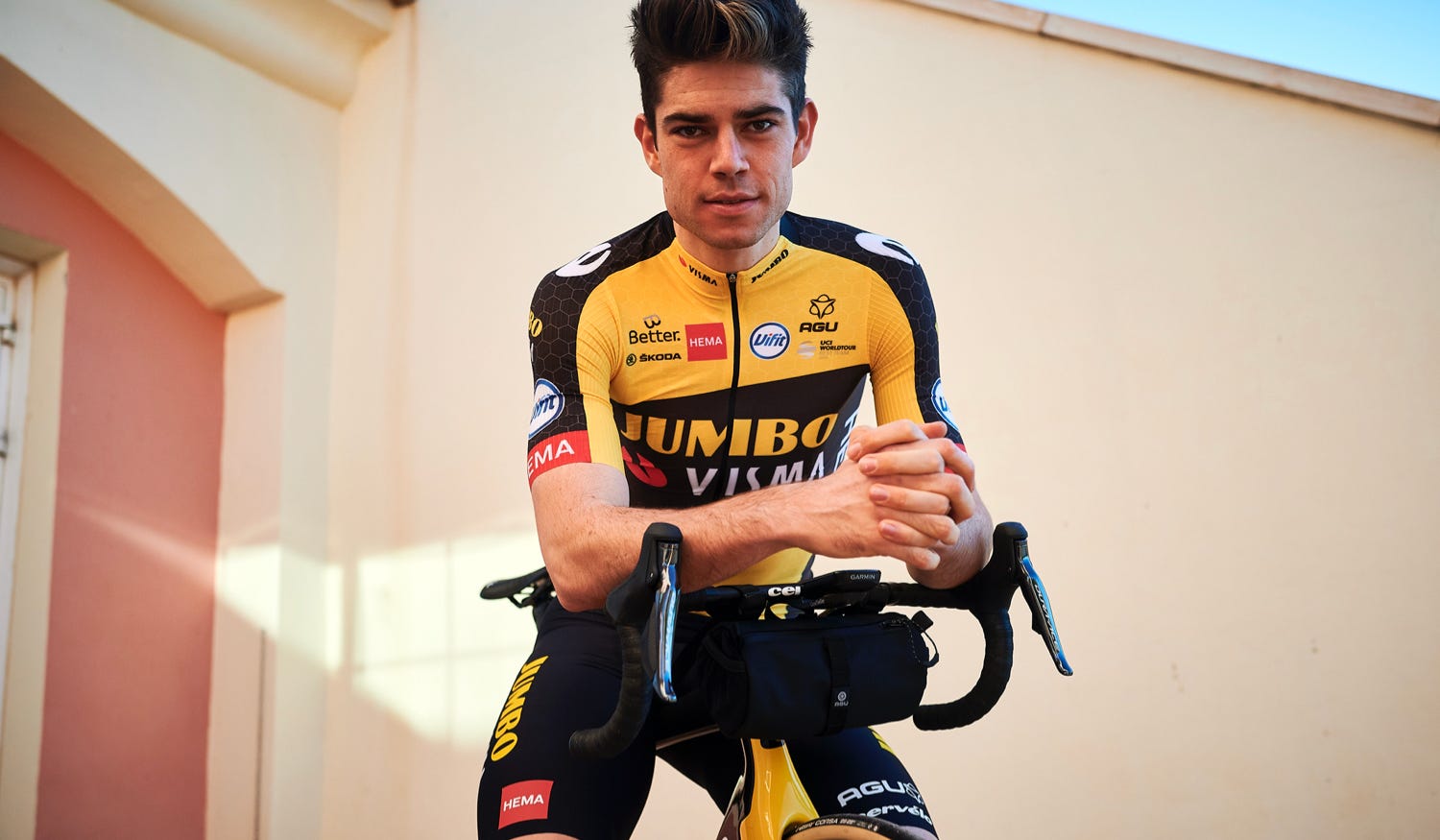 It started with a product idea by Wout van Aert and Robert Gesink. They told us that they would like a small handlebar bag so that they can easily take extra items with them on long training rides.
It soon became apparent that they were not the only ones with this wish, because from the moment the Venture Roll Bar Bag and the Venture Bar Bag came on the market, they sold like hotcakes. The success of these bags shows the great value of our collaboration with top cyclists and our quest to always find out what cyclists need and how we can help to make every ride a better ride.
In 2022 the bags will come in new colors and with a unique vintage design. In addition to new colors for the entire Venture collection, there will be fully waterproof versions of selected Venture bags, so that you will be ready for any adventure.
---
---
---
#5 - Unique collabs with pro-riders
---
Collaborating with riders always has something special, especially if we can capture the personality of a top rider in products or collections. This year we worked together with Primož Roglič, Tony Martin, and Wout van Aert.
With Primož, this resulted in a unique kit that symbolized his values ​​and personality. Tony Martin demanded nothing less than the best functionality and highest degree of visibility in his "Tony's Choice" collection. Wout made a selection of his favorite products, developed a new Gravel bib tight together with us, and made sure, together with our designers, that his love for "unpaved" bicycles was tangible in all his signature products.
Last but not least, together with Team Jumbo-Visma, we developed the "Rapid Rebel" shirt, especially for the Tour de France. A shirt that was designed with input from cycling fans and on which fans could also find their very own names. All great projects that we are very proud of.
In 2022 we will continue the collaboration with riders from Team Jumbo-Visma. We can't tell who that is yet, but that the weather will be nice and good, that's for sure. The riders do it for less, and we don't.
---
---
---
# 6 - AGU customers cycle more than 202 million kilometers in 2021
---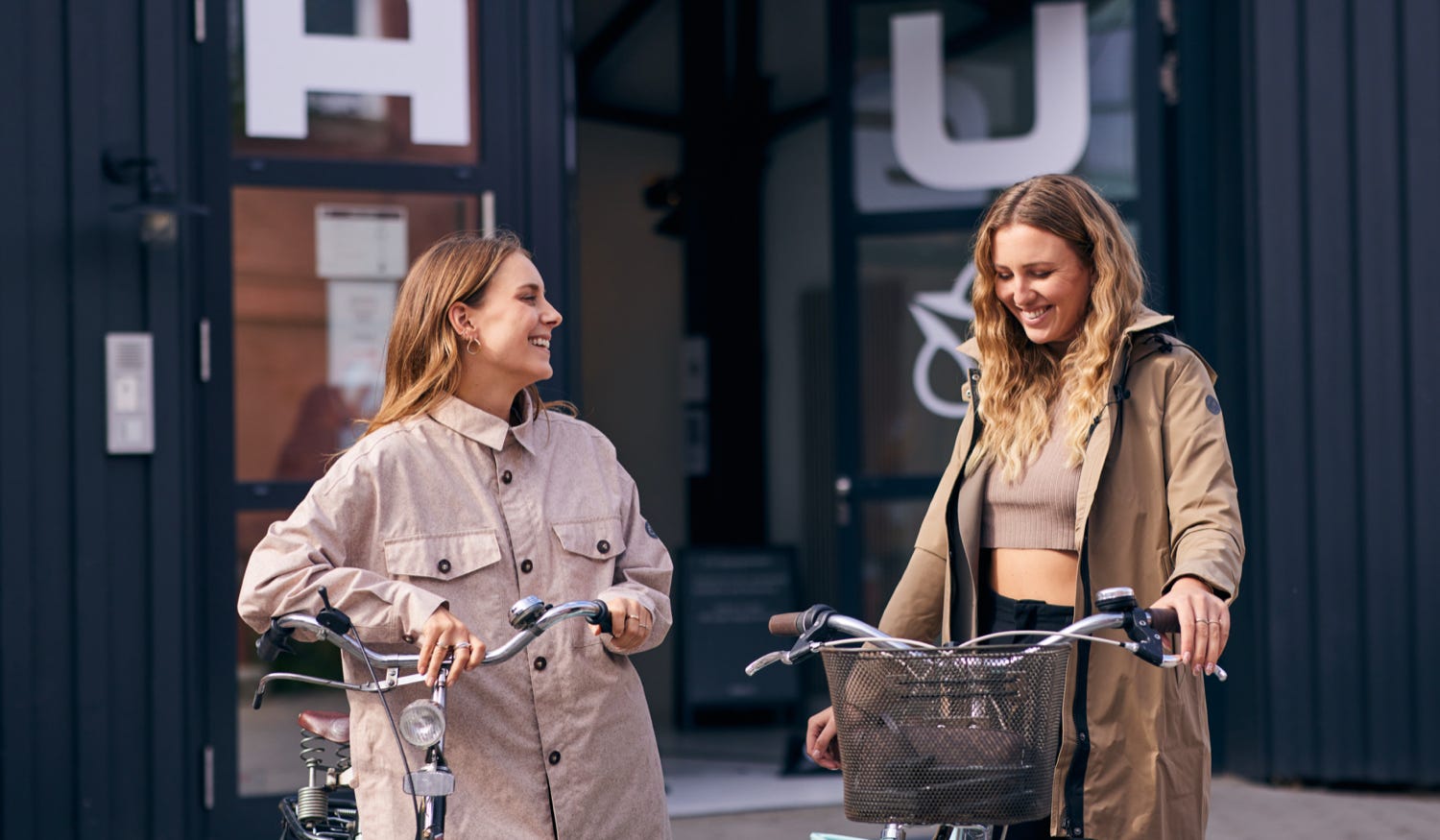 AGU is committed to encouraging and facilitating more people to cycle more often. And we achieved exactly that this year. In total, our AGU customers have cycled more than two hundred million kilometers - looking at the average number of kilometers that people cycle in a year in the Netherlands. That's more than 5,000 times around the world! A great number and all kilometers that have not been covered by car. So clean kilometers that are better for the environment. Exactly where we want to go with AGU: The more people choose to cycle every day, the more we lower our CO2 footprint.
In 2022 we want to facilitate cyclists even better. With new, even more durable options for e-bikers and speed pedelecs. With waterproof, sustainably produced panniers for cycling holidays and bikepacking adventures and with fashionable and ultra-clean new raincoats for the urban cyclist.
---
---
---
#7 - BEAT Cycling: from community to Olympic Gold
---
At AGU we don't only support teams at the very top level of elite cycling, but also teams that are aiming for that level. Especially if ambition is supported and amplified by a community packed with cyclists. We've been fans of the way Beat Cycling is building its team from the very start and are thrilled to see the results of their hard work this year.
In 2021 there were not only successes on the road at the continental level, but Beat Cycling track cyclist Matthijs Büchli won Gold at the Olympic Games. Yoeri Havik made his Olympic debut on both the road race and the Madison together with teammate Jan-Willem van Schip. Amazing work from all of them.
But we also thoroughly enjoyed the many community challenges such as the Challenge Barrachi and the Every Day Challenge with which they got whole peletons together on the bike. As their clothing partner, we are extremely proud of these amazing achievements by Beat Cyling.
---
---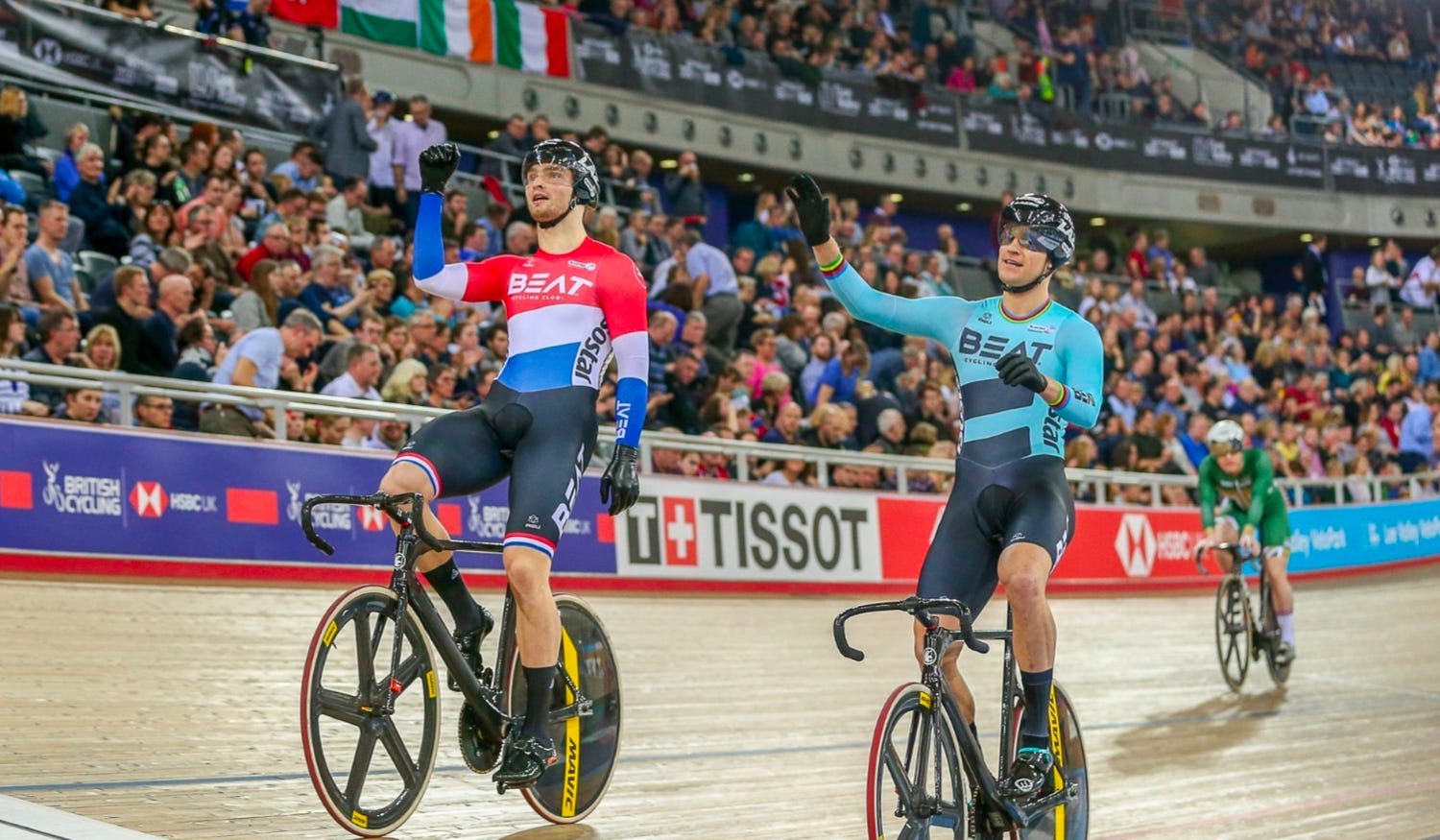 ---
---
# 8 - Tour de Tietema conquers cycling hearts
---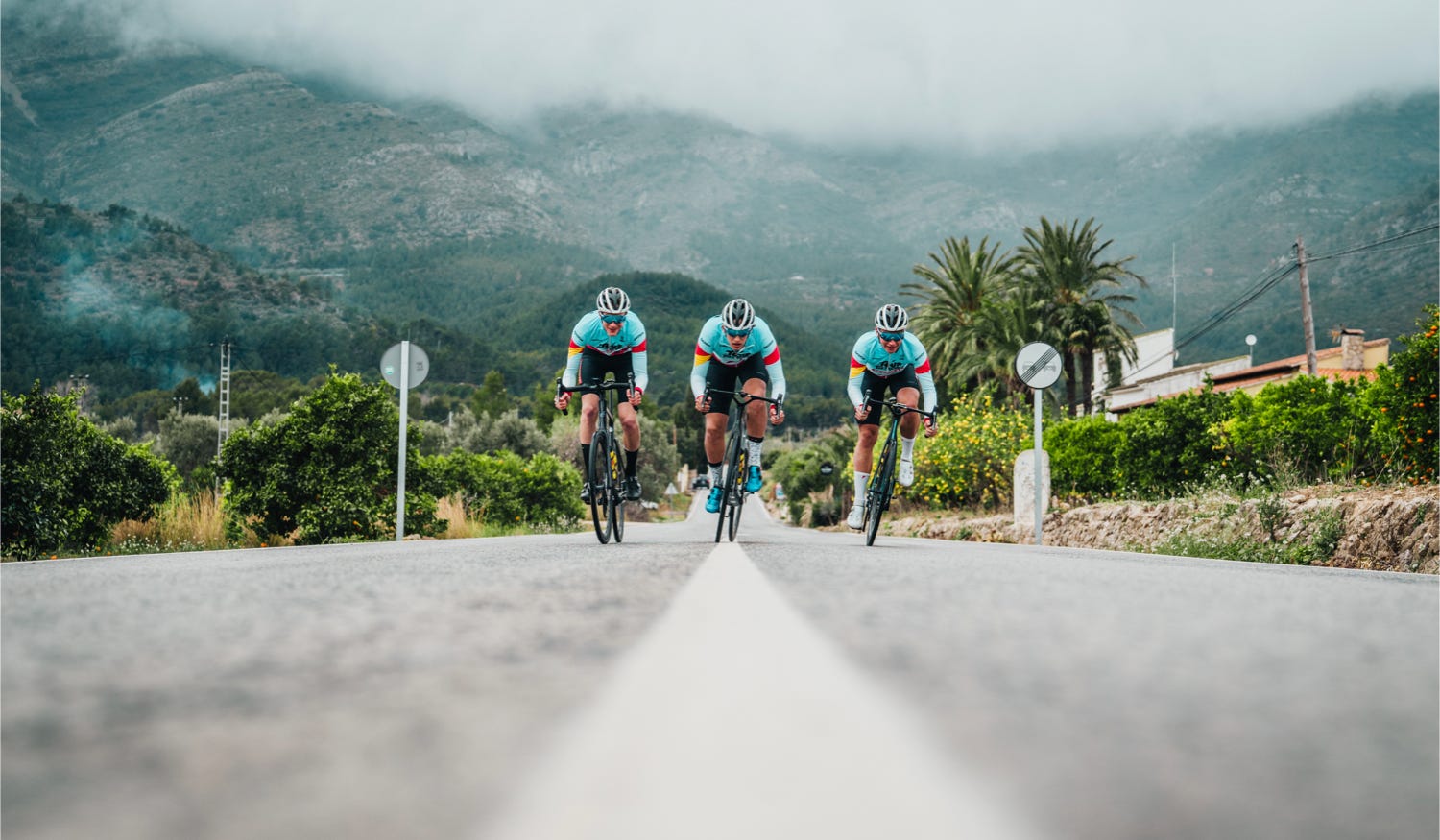 Cycling isn't just about performance, it's also about fun. If antyhing, that is what the guys from Tour de Tietema are all about. With their Youtube channel with great videos which are always driven by the fun of riding bikes, Tour de Tietema has built up an impressive fan base in recent years.
The video items shot during major races, itemswith tips & tricks and challenges, simply ooze fun and the love of cycling. During the Tour de France 2021 they had so much success that their video's where also noticed by th ASO, which unfortunately had the films taken offline because of broadcasting rights that have not been arranged. Understandable on the one hand, but also a shame on the other, because we enjoyed their enormous works of art in French fields and the epic wheelie challenge with various peloton riders during a stage of the Tour de France.
The boys and the ASO will hopefully come to an agreement for next year, and we are looking forward to great videos from Bas, Josse and Devin.
---
---
---
#9 - AGU's European Tour
---
AGU is a Dutch company that has been making cycling clothing since 1966. Founded in Alkmaar, 55 years ago and we are still here and going strong. A lot has changed over the years, but the passion for cycling has never faltered.
With the Dutch love for the bike in our blood, we want to conquer the world. We were already present in Germany, where our market continues to grow, but this year we also opened new web shops in France, Italy, Spain and Denmark. Because our ambition to encourage more people to ride bikes transcends our home borders and is share more and more in various countries. All over Europe (and beyond) we see major cities investing in better cycling infrastructure as part of a push towards greener. more beautiful cities.
Anywhere we can help make the choice for the bike easier and more attractive with our cycling clothing, rainwear and bicycle bags, is where we want to be.
---
---
---
---
# 10 - AGU turns 55
---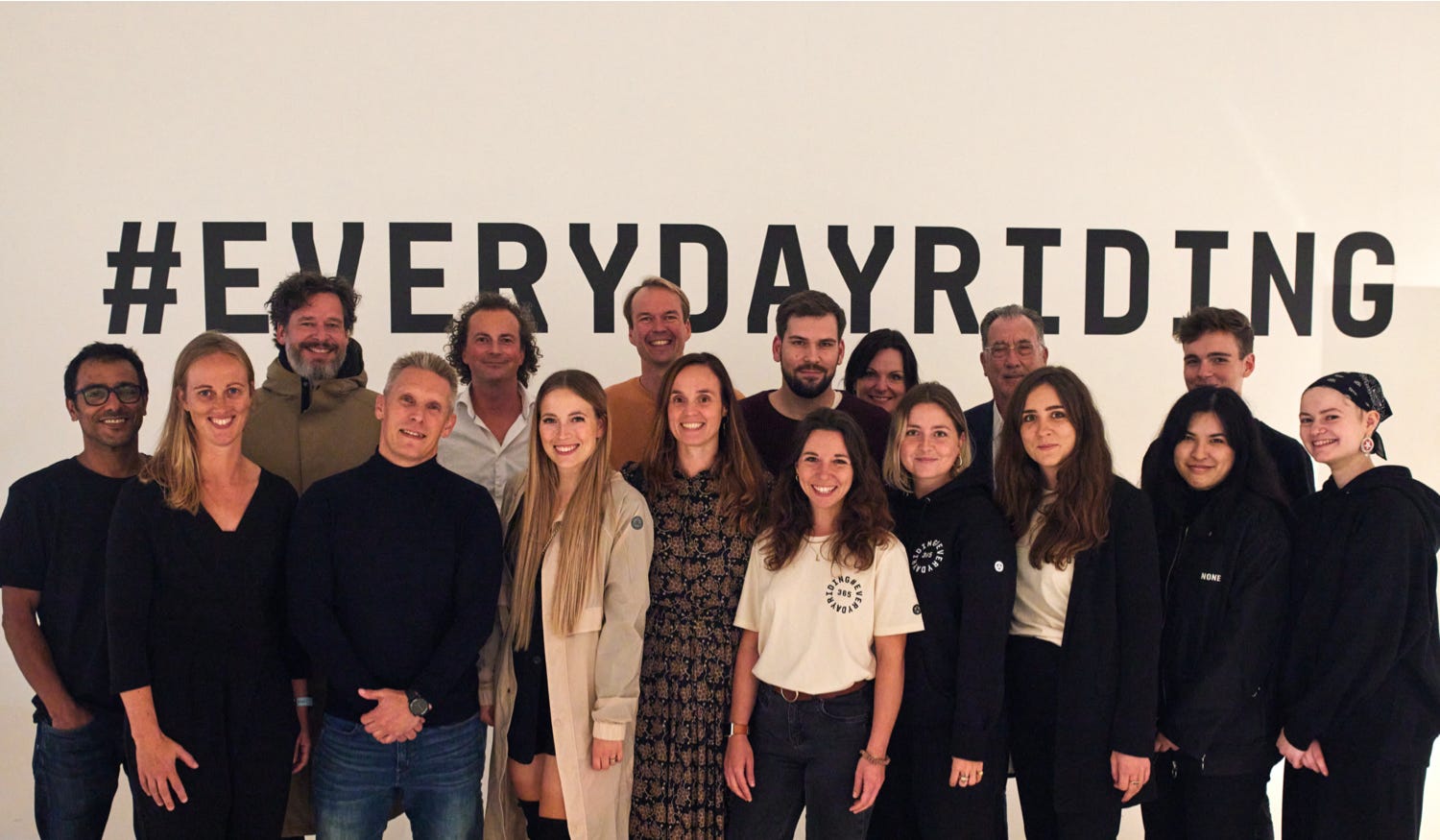 This year it was 55 years ago that AGU was founded. But 2021 has gone so fast and was so hectic that we barely had time to enjoy this anniversary. But it is still quite a unique fact: we are one of the oldest cycling clothing brands in the world and have been supplying consistently high-quality products for 55 years. Always looking for how we can improve what we make, and how we make it. And with all those years of experience and knowledge, we can look forward to the future with confidence and energy. We will continue to do what we are good at, without ever being too satisfied.
We are always looking to make better, more beautiful, and more sustainable products. All driven by a drive to innovate which has always characterized our company and worked on, every day, with all our colleagues, both in the Netherlands and abroad.
---
---
---
---
---
Bring on 2022
It is clear that 2021 has been a great year. With lots of bikes, great experiences and great products. As a result, we are eagerly looking forward to 2022, and we can't wait for all the adventures that lie ahead.
We would like to thank everyone for a fantastic year; partners, retailers, elite riders, fans, and of course all cyclists in the Netherlands who got on their bikes with their beautiful AGU clothing and bags!
AGU wishes you all happy holidays and a happy and cycling-rich 2022!
---