EVERYDAYRIDING DAY #173 - ALINA JÄGER
Full time content creator Alina has turned her hobby into her profession and is a passionate cyclist through and through. But that wasn't always the case. During our visit to her hometown of Koblenz, she tells us that she took on too much on her very first cycling tour about five years ago and was completely exhausted afterwards and disappointed. Her ambition motivated her to train extra hard to finally discover the beautiful sides of cycling.
Today, she is defined by cycling and loves everything about it: from the sound of the tyres on the asphalt to the blissful warm feeling of riding downhill after a nice summer ride.
What else cycling means to Alina nowadays, and how it has helped her to lead a healthier lifestyle, she tells us in an exclusive interview...
"My bike is also a kind of mental health machine for me. Cycling is a bit meditative and you can sort out a lot of thoughts and just let everyday life pass by." Alina says enthusiastically. Cycling is not only her greatest hobby, it also offers Alina a great health benefit: "Cycling has helped me to find a healthy attitude towards myself, my body and nutrition. And I now appreciate my body for what it is able to do. That it can easily cycle over 200 km and just doesn't give up. And it fascinates me to see that you can always go a bit further on the bike. You can always squeeze out a bit more. You can really ride to exhaustion and then some."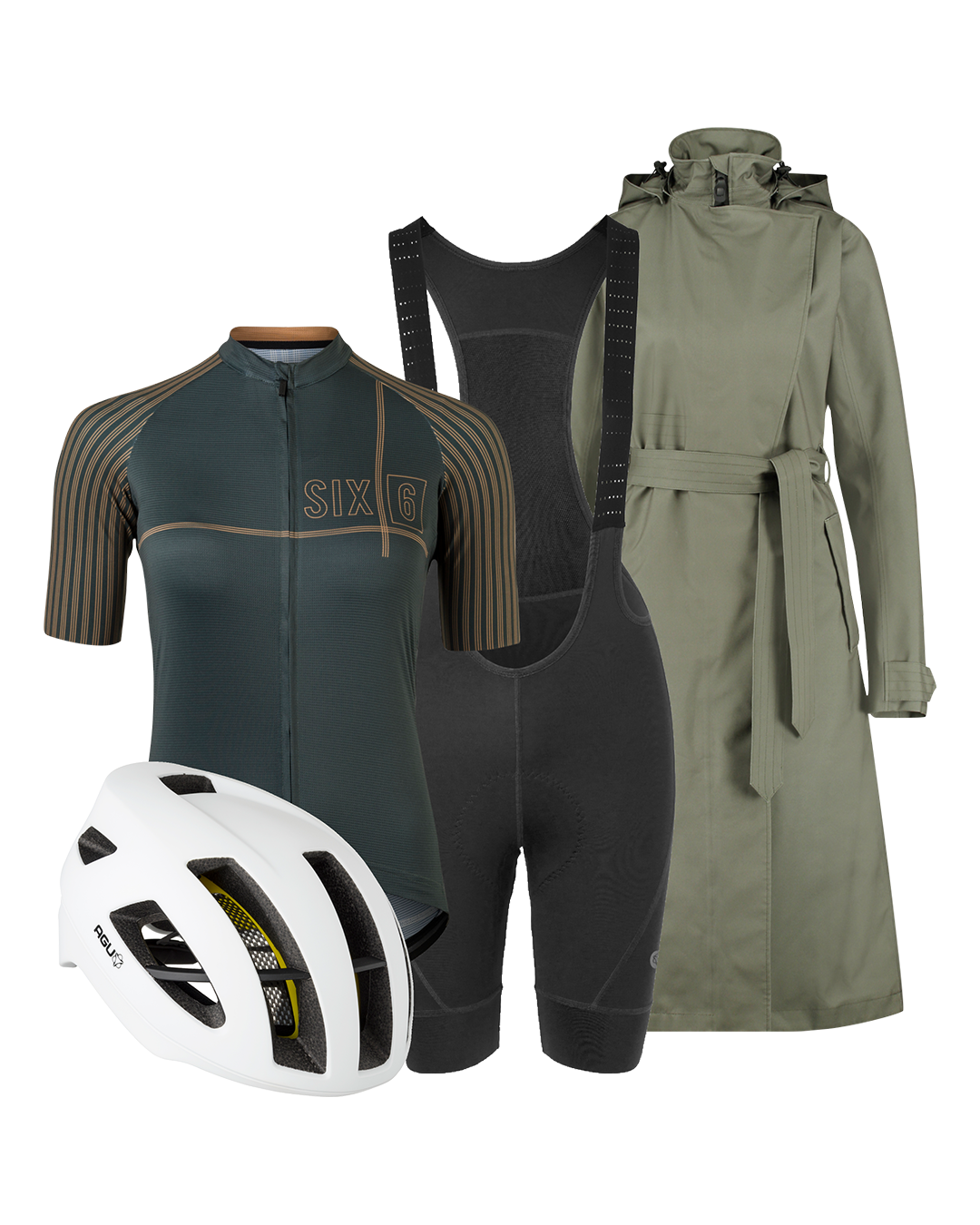 Win the Alina Jäger Prize Pacakage
To celebrate and share Alina's love for cycling in every form we are giving away a very special Alina Jäger prize package with the SIX6 Classic jersey and SIX6 Classic bib shorts, the Urban Outdoor long rain trenchcoat and the Vigarous MIPS helmet worth over € 500,-
"That sweet exhaustion, it's a bit addictive."
---
Alina, who lives in beautiful Koblenz, tells us that she rides her bike no matter where she goes - whether for work, going to friends or mundane tasks such as grocery shopping. "I don't think I am able to walk any more, simply because I do everything on my bikes. It doesn't matter which bike it is. Whether it's my city bike or my racing bike. I'm just always on two wheels."
Why is that? "I think it's easier to get everywhere by bike and also much more sustainable than taking the car."
Alina's mission: motivating people on social media to cycle. One thing in particular is extra important for her: inclusion. "I think it's important that the scene stands for inclusion. That we make sure that it doesn't matter what bike you ride, what clothes you wear, that you are simply part of the community. And that you are received with a warm welcome."