WE RIDE THE COLD
HOW DO I STAY WARM?
Strong winds, rain, snow and freezing cold. These are not the most ideal weather conditions for many cyclists. But cycling in these conditions can be beautiful. The air is fresh and clear, the frost or snow-covered landscapes are beautiful and autumn turns every forest into a colourful painting. It also puts your character to the test. But if you choose the right clothes and materials, you can beat any type of weather and enjoy the four seasons to the fullest.
---
THE SOLUTION

Cycling in cold conditions requires perseverance, concentration and the right equipment. When you get cold, you shiver. That's a natural reaction to raise your body temperature. But this shivering costs energy, energy you would rather put into your pedals. Low body temperature, fingers that are too cold to shift gears, numb feet; the cold affects your focus and the fun of cycling. But you also don't want to be sweating and overpacked on your bike. During a hard effort, you produce energy in the form of heat. But when the pace drops, you cool down and lose valuable energy. What is the solution?
Fortunately, the cold doesn't have to be a deal-breaker for a great bike ride. We've listed the solutions for you.
---
---
1: WEAR THE RIGHT CLOTHES
Choosing an outfit based on the weather can be a challenge. Extra layer or not? Windbreaker or not? Long trousers or leggings? In order to make the right choice, checking the weather is an absolute must. What is the temperature and what is the forecast? Then the question: what are you going to do? Are you going to do some endurance training at a low heart rate? Then you can use that extra layer. But if you're going for a higher intensity, for example an interval training, then it's advisable to wrap up a bit less warm, but still take an extra jacket for the beginning and end of your training.
---
---
2: WEAR LAYERS
We already mentioned it a couple of times: layering. Wearing a base, middle and top layer is the best and most flexible way to dress for the cold. Make sure that each layer is breathable so that you don't suffer too much from perspiration, which can cause your skin to freeze. Choose a merino wool base layer, for example. A fabric that keeps you warm, even when it gets damp. It is better to have an extra layer, than to shiver on the bike.
And on doubtful days, for example just between seasons, our arm and leg warmers are a perfect option. And with the water repellent coating, they also withstand a possible shower. No superfluous luxury in our rainy climate.
---
---
3: PROTECT HEAD, HANDS AND FEET
Where do you feel the cold first? Right, in your toes, fingers and ears. Most of the body heat lost through your head, hands and feet. Overshoes, a hat under your helmet, a neck warmer and gloves are essential on colder days. With AGU's Deep Winter Gloves you have a pair of mittens you can even go on winter sports with.


---
---
4: WEAR CYCLING GLASSES
Last but not least: Cycling glasses work well against the cold. In autumn and winter, glasses protect against wind and rain, with as an added result that your face stays warmer. In addition, glasses with the right lenses ensure that you continue to see contrast both in less light as very sharp light.
---
---
5: FOOD IS FUEL
Your body uses energy to cycle but also to keep warm. So it's even more important to make sure you have enough fuel. Have a good meal or snack before your ride. And eat also during your ride: if you feel hungry, you're already too late!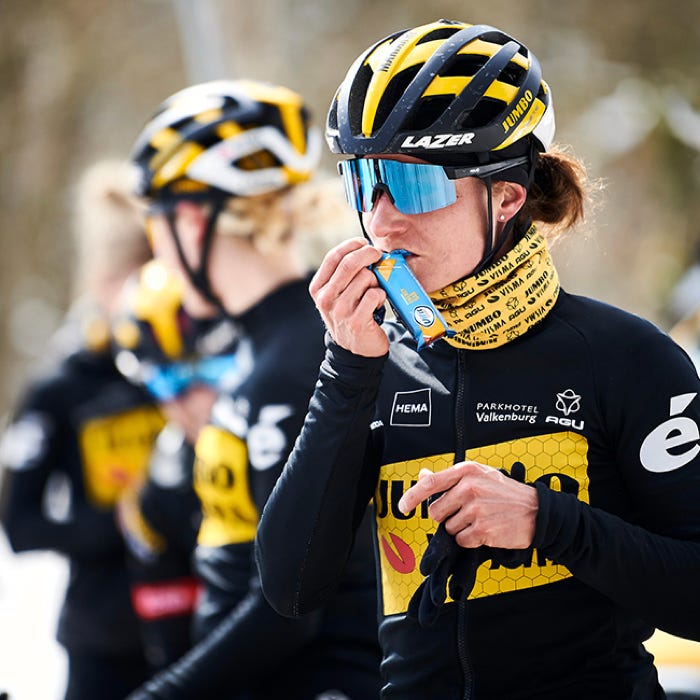 6: KEEP MOVING
The best way to keep warm is to keep moving. This stimulates blood flow and keeps your muscles warm. When you stop, your muscles cool down quickly, and you'll quickly feel the cold set in. And once you're cold it's difficult to really get warm again. If you do want to get warmer, cycle faster!
7: TURN UP THE HEAT
In the unlikely event that - after following the previous tips - you are still too cold, we have our "heated" products to warm you up. These are equipped with smart heating elements and integrated batteries that you can turn on at the push of a button. For example, we have the Heated Gloves and the Deep Winter Thermo Jacket Essential Heated, which is also a favorite of Team Jumbo-Visma riders such as Wout van Aert.!
---
---
---
---
---
TOGETHER WITH TEAM JUMBO-VISMA
We have developed many of our warmest products in collaboration and with input from the top riders of Team Jumbo-Visma. In addition to riding races, they spend hours on their bike, every day, come rain or come shine. They know better than most, what cold does to your body, and the best ways to stay warm and fit.
---